About Central Texas Dermatology
Our Story:
Dr. William Ramsdell founded Central Texas Dermatology in Austin in 1983. Since then, he has gathered the brightest and most dedicated staff in Austin, including Dr. Halliday C. McDonald, Dr. Emily L Prosise, Lia Stratton, FNP-C, Mellissa Binney, P.A.-C, and Amanda Robalin, P.A.

Dr. Ramsdell started SkinCare Austin in order to provide cosmetic services in a relaxing, spa-like environment. The
licensed aetheticians at SkinCare Austin are experts in the latest technologies.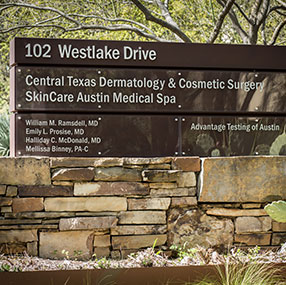 ---

William M. Ramsdell, MD
Dr. Ramsdell is a highly regarded dermatologist and surgeon with a long history of excellence and innovation. He was the first doctor in Central Texas to introduce the CO2 laser for skin resurfacing and eye lifts and served as a certified preceptor, teaching other physicians how to perform these exacting procedures. He was one of the first doctors in the nation chosen to train in Europe and introduce the Sculptra™ cosmetic filler to the United States. He is also a sought-after specialist in Mohs Micrographic Surgery for skin cancer. Dr. Ramsdell is active in a number of respected medical organizations and has presented numerous lectures and authoritative scientific papers on medical and surgical dermatology. Click to Read More

Emily L. Prosise, MD
Dr. Prosise is an accomplished surgical and medical dermatologist. As a fellow of the American Society for Mohs Surgery, she has patients referred from all over central Texas for Mohs skin cancer surgery. She trained at Duke University for undergraduate and medical school, University of Texas Health Science Center San Antonio for internship, and Stanford University for dermatology residency. She has trained medical students and residents at Brackenridge Hospital, New York University Medical School and the University of California Irvine Medical Center. With this experience, she is highly capable of caring for your dermatologic needs. Click to Read More

Halliday C. McDonald, MD
Dr. McDonald is a board-certified dermatologist with expertise in medical, surgical, & cosmetic dermatology. She has experience in the diagnosis and treatment of a variety of skin conditions, including skin cancer, acne, psoriasis, eczema, nail disorders, & many others. She also is an expert in injectable neurotoxins, fillers, chemical peels, & sclerotherapy. Click to Read More

Jeffrey Cone, MD
An artist with intense attention to detail and a passion for innovation, Dr. Cone performs a wide variety of surgical and non-invasive rejuvenating procedures. Click to Read More

Lia Stratton, FNP-C
Lia Stratton truly enjoys the practice of dermatology and is passionate about providing excellent patient care. She has received specialized training in medical, surgical, and cosmetic dermatology. She is certified by the American Association of Nurse Practitioners and is licensed by the Texas State Board of Nursing. Click to Read More

Mellissa Binney, PA-C
Mellissa Binney is a board-certified Physician Assistant and has been with Central Texas Dermatology since 2002. She has expertise in general medical dermatology, with diagnosis and treatment of skin cancers, skin conditions and rashes for both adults and children. She is licensed to practice medicine by the Texas Medical Licensing Board and is certified by the National Commission on Certification of Physician Assistants. Click to Read More

Amanda Robalin, PA
Amanda Robalin has a strong personal family history of skin cancer and is therefore passionate about helping to educate her patients in the warning signs of dermatologic malignancies. She also enjoys treating a wide variety of skin conditions including acne and rashes, as well as performing minor surgeries and cosmetic procedures. Click to Read More