Lip Filler Swelling Stages: How Long Does It Last?
Published on December 21, 2022 by Central Texas Dermatology
Have you ever seen a lip filler before-and-after photo on social media and thought to yourself, "Wow, those lips are too big?!"
Maybe you've never even considered lip filler because you want a subtle, more natural look, and you're afraid your lips will look too puffy, ducky, unnatural, or large. You're certainly not alone!
Many people think that photos taken immediately after lip filler are an accurate representation of the patient's final results. In reality, this could not be farther from the truth. There are several lip filler swelling stages that occur during the healing process, and swelling will differ for each person based on a variety of factors.
Your unique lips will swell and/or bruise in response to the amount of lip filler used, the size and shape of your lips, and your body's own response to the lip filler injection procedure. The purpose of this blog is to bring awareness and transparency to the process of lip filler, accurately represent the various stages of healing, and dispel common misconceptions that lip filler will make your lips look unnatural.
How Do I Choose a Lip Filler?
There are many different types of fillers used in the lips, and the type chosen depends on your unique anatomy and facial structure. Your injector should be skilled in considering the size, shape, and texture of your lips, as well as overall facial harmony.
For example, if the lips are larger and the shape is symmetrical and structured, your injector may choose a softer product that draws more water, thereby creating a hydrated and full appearance. If the lips are asymmetrical or lack structure, and the end goal requires these traits to be corrected, the filler chosen may be more firm to provide the lip with structure before correcting any pre-existing volume loss.
In order to achieve a subtle, natural lip filler result, I assess my patients from a holistic perspective, taking into account age, tissue consistency, lip structure, and desired end results.
One Syringe or Half-syringe?
Your skilled injector will assess your lips and facial structure to determine the amount of filler that will provide you with the best results to meet your aesthetic goals.
The choice to use one syringe or a half syringe is not clear-cut, and depends upon your unique anatomy and desired end result.
If the lips are small and/or thin, your injector may plan to inject smaller amounts incrementally over months and/or years to provide more structure and/or volume. If too much lip filler is placed in smaller lips, there is a higher risk of filler migration. Not enough filler can sometimes affect the longevity of your results. Lip filler results should last between six to nine months, and longevity will depend on the quantity used and lip movement.
Your injector should be skilled in developing a plan to meet your needs, as well as equipped to set realistic expectations regarding lip filler swelling stages and overall budget.
Lip Filler Before and After
There's no way around it … Photos taken directly after lip filler are very swollen! Post-filler swelling is affected by – you guessed it – numerous factors! One thing is for certain though: You will swell. Swelling varies by injection technique, tissue trauma induced by injections, consistency of lip tissue, filler type, and placement, and the amount of filler used to name just a few factors.
Numbing lips prior to injection with topical lidocaine contributes to swelling. Certain fillers attract more water, so filler product choice also dictates the swelling response. Post-filler aftercare including the use of ice and even sleep positioning can affect swelling.
Filler swelling responses are absolutely individual, but there is an expected progression of swelling stages and a timeline to healing and final results. The following is a written and visual account of one patient's journey from initial lip filler day to six weeks post lip filler with fully healed settled lips!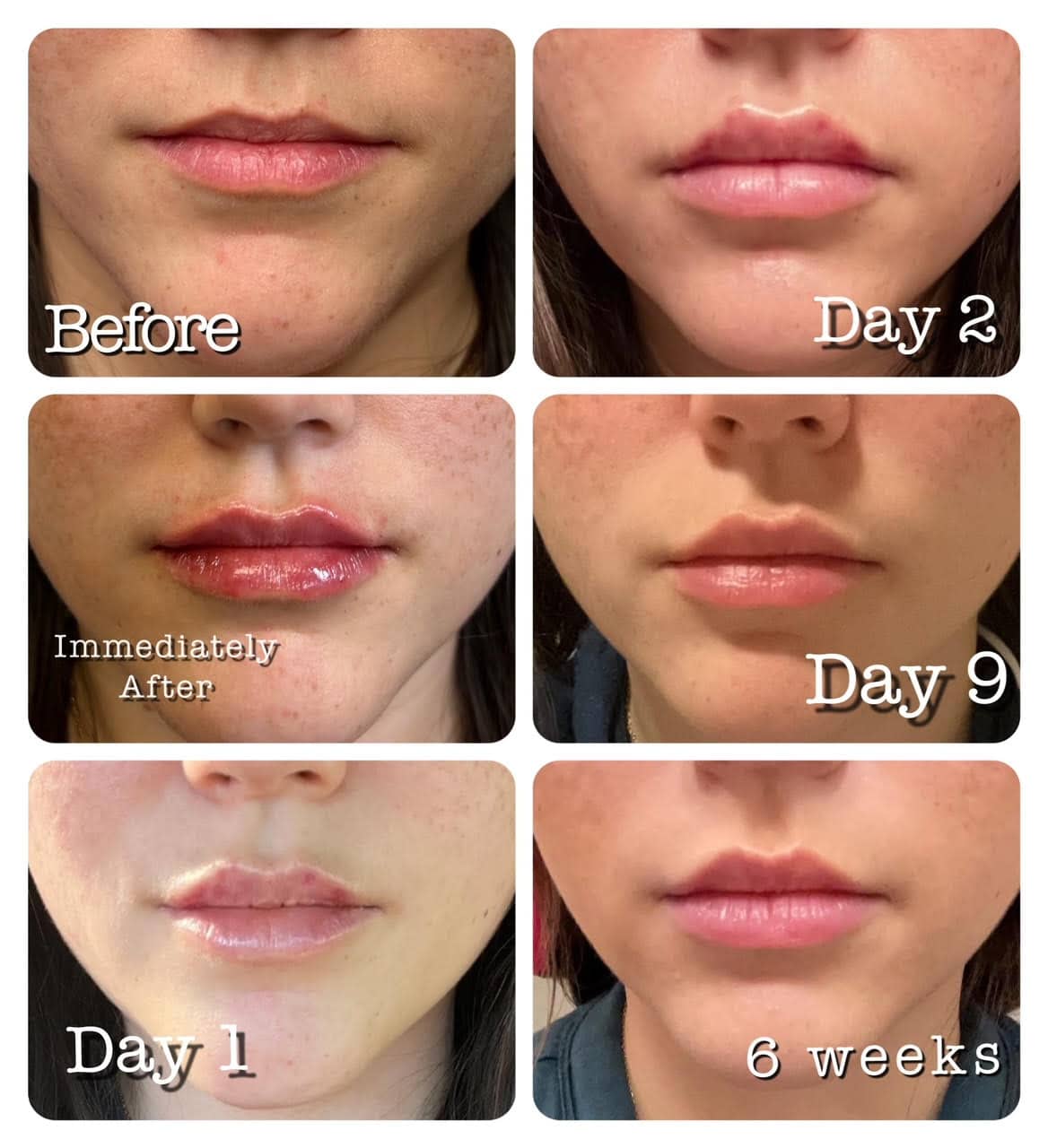 Lip Filler Swelling Stages
Day 1: You'll notice lots of swelling after your initial lip filler appointment. Lips have been injected multiple times with a needle, and the body responds by swelling to bring increased blood supply to the area in order to heal. Hyaluronic acid filler attracts water, bringing more swelling to tissue spaces within the lips. Remember to not exercise for 24 to 48 hours post-filler, as exercise will cause more swelling in the lips. For activity, I advise a light walk.
Days 2-4: MORE swelling! You'll likely be the most swollen during Day 2 and Day 3 of the lip filler healing journey. The morning after lip filler you may think, "What have I done?!" Don't worry, the swelling subsides! Your lips may even feel firm, lumpy, and look unnatural. They should not be painful, but they may be a little sore.
Days 5-7: Lip swelling is starting to subside, and at this point, you'll probably start to enjoy the looks of your lips.
Day 14: This is a great time to follow up with your provider. Lip swelling should be minimal, and bruising is resolving. Your provider will discuss and assess the shape, size, and feel of your lips. It's a great time to make notes on your results with your provider. At this point, I like to take 'after' photos that are a more accurate representation of your final lip shape. Before deciding to correct a small lump or plan for more filler, I advise waiting another two weeks for the filler to fully settle.
4-6 Weeks: Your filler is settled into the lip tissues, and your lips are healed! You and your provider will decide on the next best steps in your aesthetic journey. If there is an undesired result or a small lump of filler in your lip that bothers you, this is the time to have your injector assess the spot for correction with hyaluronidase, the solution that dissolves hyaluronic acid filler. If more filler is desired or planned, I advise waiting at least eight weeks before adding additional volume.
If you're unsure about your lip filler swelling progression, never hesitate to reach out to your injector! Luckily, most swelling is normal, and you may even find yourself missing the volume and plumpness of your Day 5 swollen lips at some point in the future!
For post-filler lips, I love to use Image Ormedic Lip Enhancement Complex for hydration and shine.
If you're interested in learning if lip filler is right for you, I'd love to be a part of your aesthetic journey. Schedule your appointment online or call 512-327-2227 to schedule.