Austin, Texas' Leader in Micro-Needling
Micro-Needling, also referred to as Collagen Induction Therapy, is a treatment in which thousands of superficial needle imprints are stamped onto the skin. The needles vary from 1- 1.5 mm in depth and penetrate through the epidermis to the second layer of the skin, the dermis, where collagen is formed. This process promotes collagen production by stimulating the fibroblasts inside the dermis. Collagen, which naturally provides structural support to the skin, diminishes with age, resulting in wrinkles, laxity and other signs of aging.
---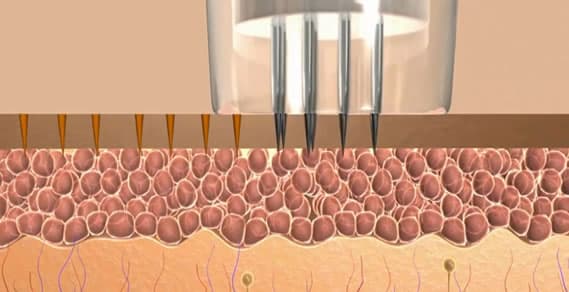 ---
The beneficial effects of Micro-Needling can be enhanced with the application of Platelet-Rich Plasma (PRP). When the procedure is performed, a patient's own blood is drawn in the office. The blood is then processed to separate out your own natural growth factors. These growth factors are then applied to the skin during and following Micro-Needling. The channels into the skin created by Micro-Needling then readily absorb these growth factors, resulting in more rapid and robust collagen production. These growth factors include: platelet-derived growth factor (PDGF), transforming growth factor Beta 1 (TGF-Beta 1) and vascular endothelial growth factor (VEGF). The effects of these growth factors on the skin have been well established by numerous scientific studies.
---
A series of four to six treatments is recommended every two to four weeks for superficial needling and at four to six week intervals for deep needling. Downtime is about 24 hours for superficial treatments and about 3 days for deeper treatments.
Micro-Needling is a very safe procedure and, other than temporary redness, side effects are usually minimal.
Before Treatment
Avoid aspirin (or blood thinners) for 2 weeks before treatment.
Avoid sun exposure and retinoids to the treated area for 24 hours before your treatment.
We recommend you apply numbing cream 1 hour before your treatment for comfort (available in our office).
Arrive at our office with a clean face (no makeup) except for numbing cream if desired.
*If having micro-needling with PRP, be sure to drink lots of fluids several hours before your appointment to allow for a successful blood draw. If you are dehydrated and we cannot obtain enough blood, your appointment will need to be rescheduled or done without PRP.
After Treatment
During the first 1-3 days you will look red (like a sunburn) and your skin may feel warm and tight.
Use a gentle cleanser with tepid water the first 48 hours. Gently dry.
Use only gentle skin care products for the first 3 days. After that you can resume normal skin care.
Avoid makeup, retinoids, glycolic acids, vitamin C products and sunscreens the evening of your procedure.
Avoid sun exposure for 24 hours. After that make sure to wear a sunscreen with at least SPF 30 daily.
Avoid swimming, strenuous activity and exercising during the first 24 hours.
Additional instructions when PRP is used: Avoid retinoids for 2 weeks and avoid lasers and IPL treatments to the treated areas for one week after the treatment (although they may be performed before the treatment.)
Additional Patient Care Instructions
---
Order products from our online store to combat:
---
---