Rejuvenate Your Skin with Laser Resurfacing in Austin, Texas
Using a CO2 laser, this treatment stimulates your body to naturally produce collagen, that plumps up lines and wrinkles. To restore the youthful skin you remember. Since no incisions are made there is a faster downtime with relatively permanent results. Your facial rejuvenation looks natural, because it is natural.
A Patients Perspective:
Laser Resurfacing + Blepharoplasty
"I had laser skin resurfacing done ... just shy of my 66th birthday. After many years of sun damage to freckly skin, I had ugly spots. The surgery went very well with the staff and the doctor showing much competence in the way I was treated. The follow-up by the doctor and the wonderful staff made the recovery go by very easily and fast. The 18 months since has been very satisfying because I have had a chance to enjoy a more youthful skin. I now take care and provide sun protection at all times. Of course, the procedure around my eyes has gotten rid of that tired, puffiness that can age the looks, also."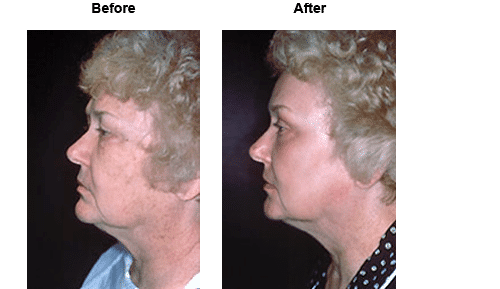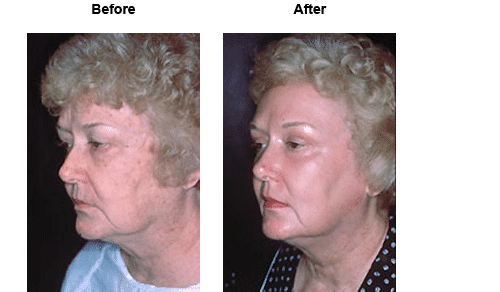 A Patients Perspective:
Laser Resurfacing + Blepharoplasty
"I have received a new lease on life at age 63. I have gained renewed confidence in myself and a sense of pride in my appearance. The staff functions well as an extension of the surgeon, providing nurturing services and a high level of care. I have found them to be extremely knowledgeable, capable, and truly provide the ultimate in care."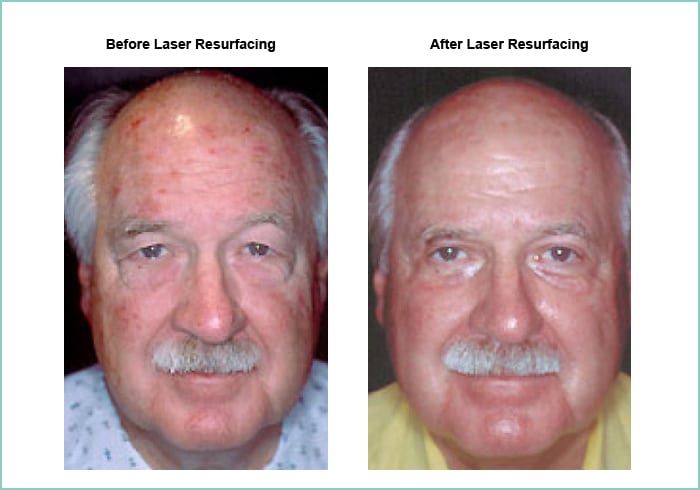 Discoloration and skin irregularities, such as age spots, blemishes and acne scarring. Along with lined, wrinkled, or lax skin on the face, neck, chest, arms, hands and legs.
---
The doctor uses a UltraPulse CO2 laser to send a fine beam of light into the skin to vaporize damaged tissue. The laser tightens existing fibers and promotes new collagen growth to minimize wrinkles and scars.
BEFORE Laser Resurfacing
Stock up on home care supplies
Make your recovery easier by having everything you need well in advance.
Apply topical meds
In the weeks before your treatment, use any topical medications the doctor prescribes.
One day before the procedure
Begin taking the antibiotic and antiviral medication the doctor prescribes. You will continue taking this medication for 10 days..
The day of your appointment:
Shampoo hair but do not use hairspray.
Wash face with soap and water.
Do not wear makeup or jewelry.
Take all usual medications.
Eat usual meals.
Wear a button-up shirt.
Bring an elastic headband.
Arrange for someone to drive you home.
DURING Laser Resurfacing
You will be given a local anesthetic prior to treatment. During the procedure you may feel a slight but tolerable stinging sensation. After treatment we will place a dressing on the treated area, and you wll be ready to go home.
AFTER Laser Resurfacing
The first 8 to 10 days Prepare for a 10-day home recovery. In the first 48 hours your skin will be red and swollen, and may feel similar to a bad sunburn. All treated area must be kept moist with the dressing applied after surgery or with Vaseline or Aquaphor for the first 8-10 days. After which you should be able to switch to a more mild moisturizer. (See our patient handout entitled "Home Care After Laser Skin Resurfacing" for specific post-operative instructions.) Do not put any topical agents on your skin other than Vaseline or Aquaphor without consulting us first. After 10 days You will probably be able to start wearing makeup after 10 days. Treated areas may feel quite tight and dry. Vaseline or Aquaphor are not usually necessary at this point, but most patients require use of a moisturizer. Itching is common and responds to prescription ointments available upon request. The redness will gradually fade after a period of weeks to months. As the swelling subsides, you may notice wrinkles reappearing. This is normal. Many of these wrinkles will disappear completely or improve dramatically as new collagen forms. Optimal improvement may take three months or longer. Some patients may require more than one treatment.
---
As with any surgery, side effects may include pain, infection, or scarring. Tightening of the skin and redness is common. This red phase is associated with the new collagen formation and may last for several months. It is best concealed with makeup. A complimentary makeup consultation at our medical spa, SkinCare Austin, can help camouflage any redness. Temporary darkening of the skin is common, particularly in dark-skinned individuals. This almost always fades away completely. Permanent lightening of skin color has been reported in up to 20% of patients. Please use a broad-spectrum sunscreen for three months following your treatment.