Benjamin Eskenazi, M.D. - Plastic Surgeon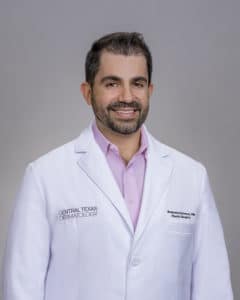 Dr. Benjamin Eskenazi has practiced plastic surgery since 2017, building upon eight immersive years of surgical residency. He is double board certified in both General Surgery and Plastic Surgery and maintains active memberships in the American Society of Plastic Surgery and American Society of Aesthetic Plastic Surgery. He is also a Fellow of the American College of Surgeons.
After establishing a solid foundation in general surgery at Parkland Hospital in Dallas, he completed his plastic surgery training at Cleveland Clinic – the US News #2 ranked hospital in the country. There he trained across the entire scope of reconstructive and cosmetic surgery, learning from world leaders in breast reconstruction, skin cancer, face transplantation, cosmetic surgery, and injectable fillers, amongst others. He had the privilege to serve as administrative chief resident and also to care for three recipients of face transplants at various stages of their healing.
Dr. Eskenazi is passionate about aesthetic medicine and strives to provide a concierge experience for his patients. This includes spending the necessary time to establish a good rapport and customize a plan to match their desired outcome- always keeping safety as his top priority. He believes that the foundation for success in plastic surgery involves communication, trust, and meticulous attention to detail, and he looks forward to building on lessons learned in his life journey to deliver the highest quality of care to patients across the Austin Metro Area.
Dr. Eskenazi has been the recipient of excellent mentoring, and he has tried to pay that forward by volunteering through the Big Brothers program. He moved to Austin with his fiancé Ashley and miniature Bernedoodle, Normi. In his free time, he enjoys golf, travel, and collecting vinyl records.
Education
Plastic Surgery Residency: Cleveland Clinic Foundation, Cleveland OH
General Surgery Residency: UT Southwestern/Parkland Hospital Dallas TX
Medical School: Emory University School of Medicine, Atlanta GA
Undergraduate: Tufts University, Boston MA
Study Abroad: New York University, Madrid Spain
Professional Associations
American Society of Aesthetic Plastic Surgeons, Member
American Society of Plastic Surgeons, Member
American College of Surgeons, Fellow
Parkand Surgical Society, Member
-
Written on September 21, 2021
I highly recommend Dr. Eskenazi! I went to him for a breast reduction, and step by step, he made the entire process so easy. He paid attention to my questions and concerns. Not to mention, I was back on my feet after surgery in a week! I am so grateful for his attention to detail, his honesty, and the way he listens to his patients. 100% recommend Dr. Eskenazi for any of your surgical needs!
-
Written on September 21, 2021
Dr. Ben took care of me when I had squamous cell carcinoma. He is a very caring doctor. The first surgery was very hard on me. I didn't know how bad this would be. During the surgery I felt sick. He said we can stop till you feel better. His nurses were great. I am sure he was on a tight schedule but this didn't matter. He was concerned about the patient he was with at that moment. I was so blessed to have him. The second time wasn't as bad but then again he was great. I would recommend Dr. Ben in a minute. When you hear the word cancer you want the very BEST. That is what he is the very BEST.
-
Written on September 21, 2021
This surgery changed my life for the better! I am SO fortunate to have been cared by such a great group of staff. Dr. Eskenazi is a consummate healthcare professional. From my consultation through my recovery, Dr. Eskenazi called to check on me frequently, to ensure that I had a positive overall experience. We need more of him and his team in the healthcare world today! I highly recommend him!