PRP for Hair Loss
There are a variety of causes for hair loss such as stress, giving birth, diseases, autoimmune conditions and medical treatments. But the medical condition known as hereditary hair loss is most common, affecting more than 80 million men and women in the United States. While some shedding is normal, if you begin to notice excessive thinning or bald patches, you may be experiencing hereditary hair loss.
We understand that hair loss is more than a physical condition – it can dramatically impact your self-confidence, self-perception and overall quality of life. If you look in the mirror and are troubled by excessive thinning, balding or receding hairline, the experts at Central Texas Dermatology can help pinpoint the medical cause of your hair loss and establish the best course of treatment.
Platelet Rich Plasma (PRP) Therapy is a proven and effective method for delivering your body's own natural growth factors to existing hair follicles, revving up tired hair cells up to produce more hair and thicker hair.
---
What is Platelet Rich Plasma (PRP)?
Your blood contains white blood cells, red blood cells and platelets. Platelet rich plasma (PRP) contains a higher concentration of platelets than found in the blood as well as high levels of growth factors. These growth factors act as messengers that tell our skin and hair cells how to function optimally, leading to rejuvenation, re-growth and healing.
PRP injections to the scalp trigger natural hair growth and maintain it by increasing blood supply to the hair follicle and increasing the thickness of the hair shaft.
---
How is PRP Therapy for Hair Loss Performed?
PRP Therapy for hair loss is an outpatient procedure available at Central Texas Dermatology.
To obtain plasma with the highest concentration of platelets, we draw your blood and process it in a centrifuge, causing platelets to accumulate together, resulting in a rich serum of your own making. We then inject platelets into thinning or receding areas. The number of injections and length of procedure depends on the size of the treatment area.
A standard course of PRP therapy for hair loss consists of three monthly PRP sessions, followed by a session every three months for a year. Depending on your results and goals, we'll develop a maintenance plan to ensure a fuller, thicker head of hair.
---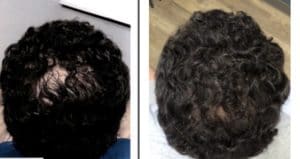 Post-Care Instructions
---
Call to schedule a consultation today:
---
---