Austin Texas' Premier Kybella Treatment & Double Chin Removal Experts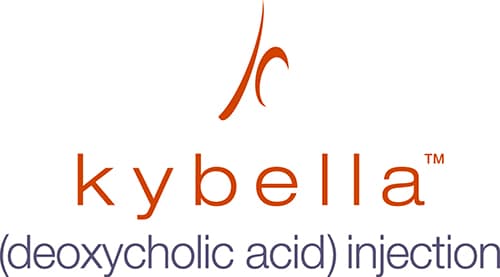 Kybella is the first and only non-surgical solution to unwanted submental fullness, commonly referred to as a 'double chin'. This stubborn region of fat is highly resistant to diet and exercise. Kybella is a breakthrough in this regard.
Less invasive than liposuction or neck lifts, Kybella is a series of simple injections which breaks down fat cells and prevents future accumulation. A contoured jawline and youthful look can be achieved within 4-5 visits and little to no recovery time. The effects are permanent in most cases.
---
Submental fullness is an excess of subcutaneous fat beneath the jawline that can interfere with facial symmetry and result in an excessively aged or heavy look. Furthermore, since this condition is caused by a number of factors including weight gain, natural aging, and genetics, it is resistant to diet and exercise.
According to a recent American Society for Dermatological Surgery study, submental fullness ranked among the 5 most common cosmetic issues, with 68% of respondents reporting feeling 'bothered' by excess fat in the chin and neck region.
---
The key to Kybella is a synthesized form of deoxycholic acid, a naturally occurring molecule which aids in breakdown and absorption of dietary fats. This molecule is injected into the superficial pocket of fat located just below the chin, between the skin and a thin layer of muscle called the platysma. Here, it dissolves the membranes surrounding fat cells, ensuring they can no longer store or accumulate fat.
---
An initial consultation with your practitioner will be necessary to develop a personalized treatment plan. Each injection takes 15-20 minutes and requires only topical anesthetic to minimize discomfort. Injection appointments are spaced one month apart and most patients will see results within 2-4 treatments. Once the desired profile is achieved, the effects are permanent, barring serious fluctuations in body fat.