How to Prevent and Treat 'Maskne' Acne and Rosacea Flare-Ups
Published on October 26, 2020 by Central Texas Dermatology
Now that masks have become a part of daily life to decrease transmission of COVID-19, many patients are reporting 'maskne'.
What is 'maskne?'
Maskne is acne and rosacea flare-ups where your mask and its straps rub against sensitive facial skin.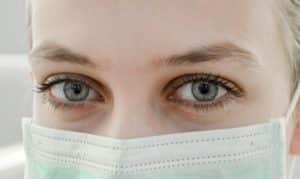 A Hydrafacial at Central Texas Dermatology's SkinCare Austin can do wonders for soothing maskne-flared skin. Following your treatment, allow our medical estheticians to help you select the products that are right for calming your skin!
You shouldn't feel like you always have to conceal your face to hide painful, embarrassing blemishes related to mask-wearing. To prevent and treat maskne, Dr. Prosise recommends patients use the following products:
For maskne acne or rosacea flare-up, salicylic acid cleanser and medicated topicals such as:
Epionce Lytic Gel cleanser and PCA pore-refining treatment (exfoliator) plus prescription (these products are available at our office)
Aveeno Foaming Face wash and zinc/sulfur bar soap (available on Amazon)
Ivermectin cream, azelaic acid gel, and metronidazole gel (can get individually or as a compounded medication and mailed to you from a specialty pharmacy. Alternatively azelaic acid cream is available OTC by The Ordinary.)
To schedule your appointment at SkinCare Austin, call 512-327-2227.