Caedran Audley, FNP-C - Family Nurse Practitioner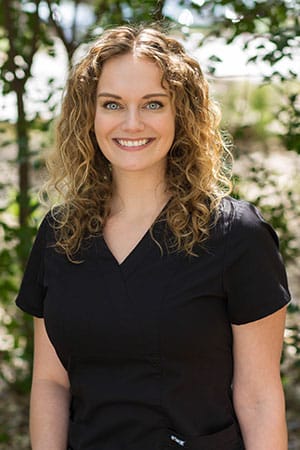 Caedran Audley, FNP-C
Family Nurse Practitioner
Caedran Audley is a licensed and board certified nurse practitioner. Originally from Missouri, she earned her Associate of Science in Nursing from Southwest Baptist University and her Bachelor of Science in Nursing from the University of Missouri-Kansas City. While working as a Registered Nurse, she obtained her Master of Science in Nursing degree in 2017 from Maryville University, where she was inducted into the Sigma Theta Tau International Honor Society of Nursing.
Caedran has over 6 years of nursing experience in Intensive Care and Emergency Department settings. She has worked at Central Texas Dermatology since 2015. She attended the 2018 annual American Academy of Dermatology (AAD) meeting in San Diego and completed the AAD dermatology curriculum.
Caedran moved to Austin in 2014 and loves being able to contribute to the Austin area community through healthcare. She is passionate about preventative medicine and helping individuals feel confident in their appearance. She enjoys living an active lifestyle, spending time with family and friends, and listening to live music.
Caedran is a member of the Austin Advanced Practice Nurses and is board certified through the American Association of Nurse Practitioners.
Personal History
BUSINESS ADDRESS: 102 Westlake Drive, Suite 100 | Austin, TX 78746
PHONE 512.327.7779
Hometown: Nevada, MO
Education and Training History
MASTER of Science in Nursing of Maryville University at St. Louis, MO
May 2017
BACHELOR of Science in Nursing of University of Missouri-Kansas City at Kansas City, MO
May 2014
ASSOCIATE of Science in Nursing of Southwest Baptist University-Mercy College of Nursing at Springfield, MO
December 2011
Nursing PREREQUISITES of Ozarks Technical Community College at Springfield, MO
August 2008-December 2009
Professional History
Central Texas Dermatology
Nurse Practitioner — Dermatology, September 2017-Present
Central Texas Dermatology
Registered Nurse-Mohs Technician — Dermatology, December 2015-September 2017
St. David's South Austin Medical Center
Registered Nurse — Emergency Department, July 2014-September 2017
Mercy Hospital
Registered Nurse — Medical Intensive Care Unit and Post Anesthesia Care Unit, December 2011-June 2014
Mercy Hospital
Patient Care Associate — Neurology Intermediate Unit, February 2009-December 2011
Preceptorships
Rhonda Deschner, M.D., Pediatrician of Corridor Primary Care Pediatrics at San Marcos, TX
January 2017-April 2017
Genoveva Prisacaru, M.D., OBGYN of Seven Hills Women's Health at Austin, TX
January 2017-April 2017
William Ramsdell, M.D., Dermatologist of Central Texas Dermatology at Austin, TX
October 2016-November 2016
Robyn Swoboda, APRN, FNP-C of Fast-Med Urgent Care at Austin, TX
September 2016-November 2016
Ryan Brantley, APRN, AGACNP-BC of Riverside Nursing and Rehab at Austin, TX
June 2016-September 2016
Robert F. Yerrington, M.D., Family Medicine of Well-Power Health Center at San Antonio, TX
February 2016-July 2016
Certification
State of Texas Advanced Practice Registered Nurse (APRN) 2017-Present
Family Nurse Practitioner Board Certification (FNP-C) 2017-Present
State of Texas Registered Nurse License (RN) 2014-Present
Trauma Nursing Core Courses (TNCC) 2015-Present
Nonviolent Crisis Intervention (CPI) 2014-Present
Pediatric Advanced Life Support (PALS) 2014-Present
Advanced Cardiac Life Support (ACLS) 2012-Present
Basic Life Support for Healthcare Providers (BLS) 2009-Present
Professional Organizations
The Austin Advanced Practice Nurses 2017-Present
Sigma Theta Tau International Honor Society of Nursing 2016-Present
American Association of Nurse Practitioners – 2018-Present