Alyssa DiVincent, CoolSculpting Specialist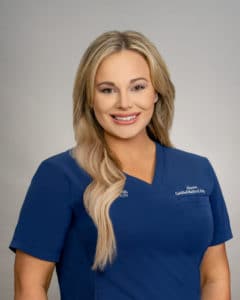 Alyssa became certified in CoolSculpting and has been treating patients since 2016 with this and other body-contouring procedures. She has worked in dermatology and plastic surgery for many years, and she loves being able to make her clients happy and see their confidence in their appearance grow.
Alyssa appreciates the bond that she forms with patients throughout the process of consultation and treatment. She truly gets to know clients, learning their life stories and passions as well as insecurities.
During consultation, Alyssa asks patients their 'why.' What is their reason for wanting to get this treatment? It could be just because they're interested in being more toned. Or maybe pinch-able fat has bothered them for years. Or perhaps they've recently gone through a life change and want to regain confidence that's dissipated over the years. There is no wrong answer! It is most gratifying to her to see clients who once hated their abdomens leave their last follow-up with their heads held high and shoulders back, carrying themselves with renewed confidence.
Outside of work, she enjoys spending time with her son and her family and exploring new places. Alyssa also writes a blog where she shares about being a Domestic Violence Survivor. As a survivor, she has a passion for public outreach and speaking to advocate and help others see that there is a light at the end of the tunnel.